Eco-Friendly Holiday Decorations
Let's start with your home. Homes are the heart of the holidays. Creating a holiday ambiance helps make the season festive and fun. Saving decorations to re-use every year is the best way to buy less plastic and reduce waste. If you don't like to clutter up your closets with holiday decorations or you're like me and love to get new decorations each year that reflect my newest style inspiration, then consider looking for eco-friendly decorations. Many decorations are made from different types of plastic. Everything, from tinsel and figurines to garlands or new centerpieces is commonly made using plastic. Unfortunately, plastic is one of the biggest pollutants on Earth. The majority of plastic that is made does not get recycled. This plastic is piling up in our oceans and landfills. It takes over 450 years for a single plastic bottle to degrade to the point of being microscopic. Even once plastic is microscopic it doesn't go away, it floats in oceans and seeps into the soil. Microscopic plastic is a growing concern of scientists around the world and has been found in fish and other animals, contaminating the food chain.
The less plastic we buy and use, the better it is for the future of our planet and wildlife. When there's a choice, choose decorations made from recyclable materials like wood or metal. Treat yourself to real plant garlands, poinsettias and Christmas trees. Sprigs of pine or fir last a long time in a vase of water and will make your home smell amazing. LED holiday lights will help you save on the power bill. You can also make your own decorations at home as a fun family project.
When having big meals, replace plastic or Styrofoam tableware for plates and cups made from compostable materials. Utensils made from recycled materials or bamboo are also great alternatives to single-use plastic.
Shop with the Environment in Mind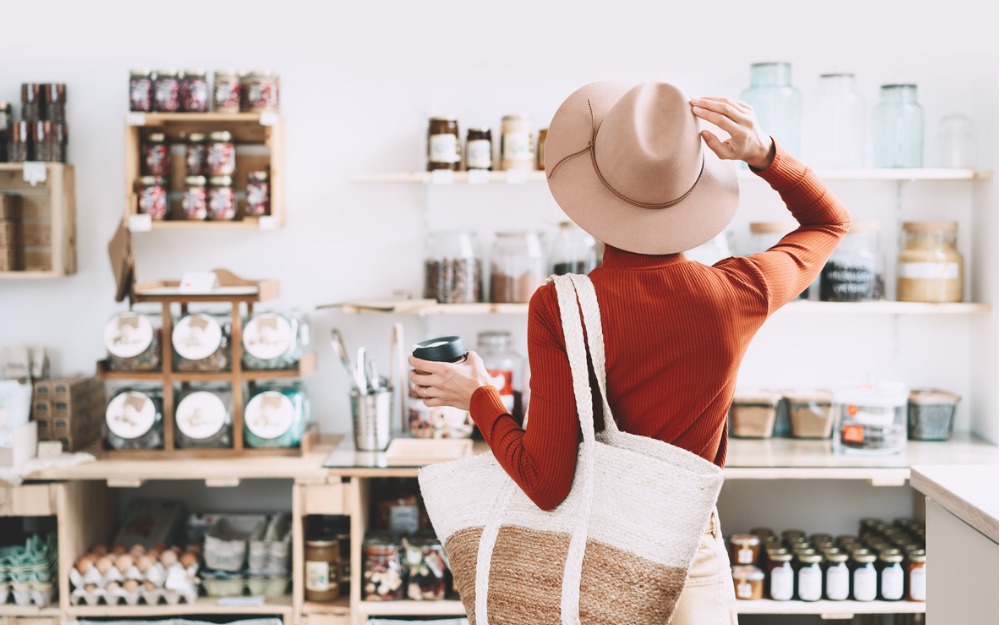 Shop Local
Buying holiday gifts and supplies from your neighborhood shops is a wonderful way to support your local economy. Many small businesses have struggled to keep their doors open amidst Covid-19 safety restrictions. Many small businesses are counting on the holidays to make up lost revenue. With more and more mom and pop shops utilizing online shopping, it's now easier than ever to shop locally. When you buy from your neighborhood bookstore, plant shop or toy store you are supporting your local community. Plus, if you're like me and wait until the last minute to shop, buying local makes it easier to pick up orders rather than worrying about delayed shipping deliveries.
Gift cards are back
Many local and smaller businesses are now offering gift cards that can be easily bought and delivered online. Gift cards don't use as much packaging and are a great way to introduce a friend to your favorite restaurant, service or product.
Give for the Long Run
This may be the year to invest in gifts for your home that will last for years to come. Instead of filling up your home with more clutter, invest in gifts that will improve your quality of life every day. For the health-conscious, a whole house water system provides filtered, delicious water for the entire home. Or for the music lovers, maybe a home sound system. Lower your carbon footprint with gifts that can be charged rather than electronics that use batteries.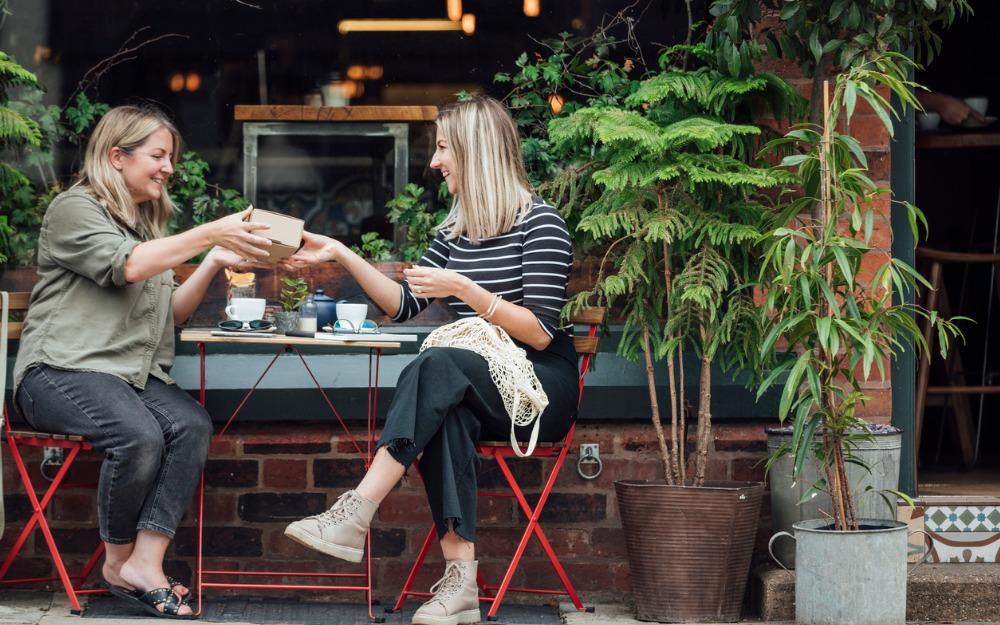 Planet Friendly Fashion
There are specific certifications that have been created to help you shop for more sustainably made clothing. Here are a few certifications to look for when shopping.
Oeko-Tex Standard - Clothing with this certification has been tested to ensure no harmful substances or chemicals are used. From the thread to the buttons, you know that brands who have this certification have fully committed to making eco-friendly clothing.
Fair Trade (Fair Trade Textiles and Fair Trade Cotton) - Clothing with a Fair Trade certification is free from Genetically Modified Organisms (GMOs) and toxic chemicals. They have one of the most user-friendly shopping guides, that's easy to explore.
USDA Organic - You may have seen this certification on labels in the grocery store or the farmers market. The US Department of Agriculture can also certify the ingredients used to create textiles. Clothing with a USDA Organic label has used certified organic cotton, wool or other source material.
Less Wasteful Stocking Stuffers
To get your juices flowing, here are some ideas for stocking stuffers or little gifts that can help others live a little more eco-friendly.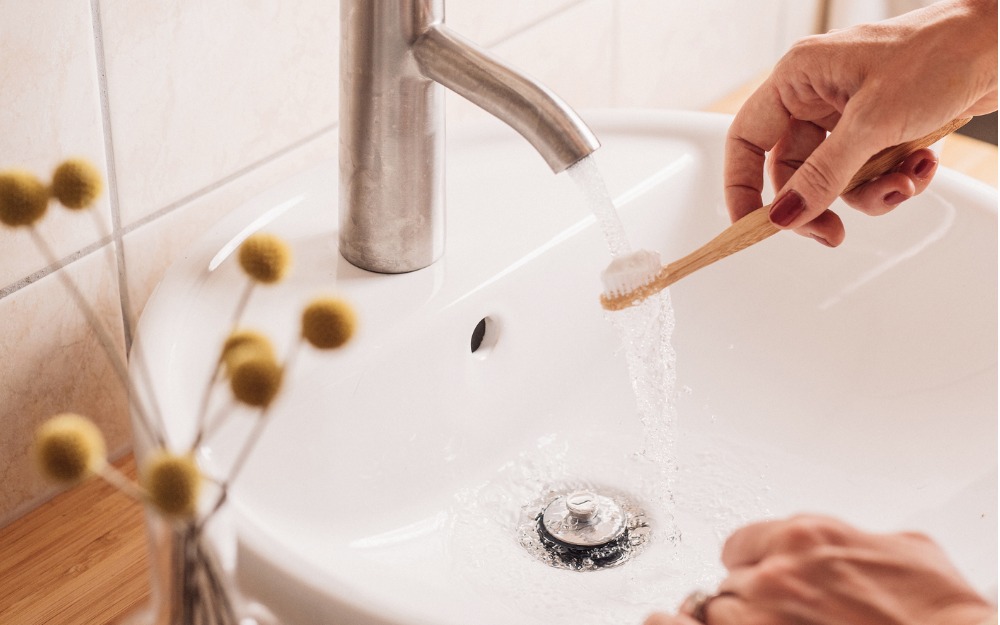 Metal or glass reusable straws (with cleaner)
Not only are reusable straws trending, they also help reduce the amount of plastic that ends up polluting our oceans and environment. It may seem awkward at first, but soon you'll love having your own personal straw.
Bamboo Toothbrushes
Next time you need a new toothbrush try one made from sustainable bamboo. The more plastic products in your home that can be replaced by a more sustainably made product the better. Once you start looking around, you'll start to notice just how many everyday items could be more eco-friendly.
Farm/Produce Box Subscriptions
Give a gift that keeps on giving. Produce box subscriptions are a great way to get fresh fruit, vegetables, dairy and eggs directly from local farmers. When you cut out the middle man, you also cut down on packaging and resale costs. Have more confidence in the food you eat when you know where it was grown and who grew it. This is also a fun way to discover new seasonal fruits or veggies you may not normally eat.
Eco-friendly candles
Candles make great stocking stuffers or gifts. When choosing candles, look at the type of wax. Paraffin (a by-product of petroleum) candles release toxic chemicals into the air, like methyl ethyl ketone and naphthalene. Whereas candles made from soy or beeswax have a much cleaner burn. Candles made with 100% cotton or wooden wicks are the best way to ensure the candle has the most natural burn residue.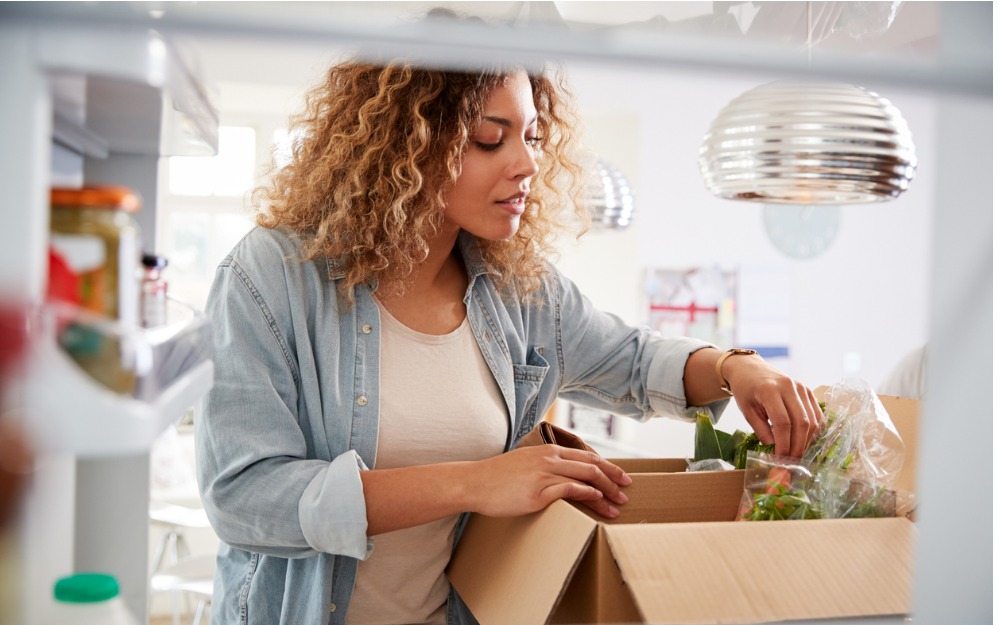 You are now ready to shop and save the planet at the same time! Even taking the smallest of steps toward reducing plastic waste by choosing brands with sustainably made products will make a big difference. Invest in gifts for yourself and loved ones that make the home and environment healthier.