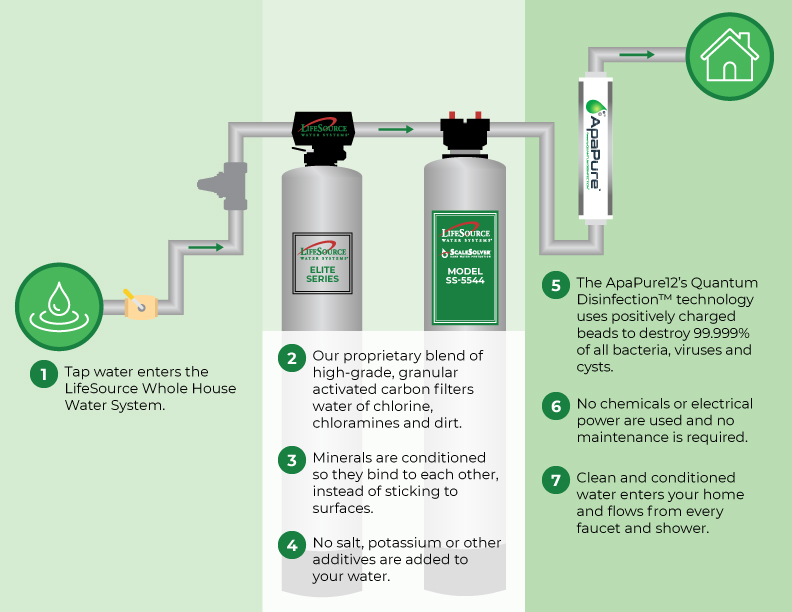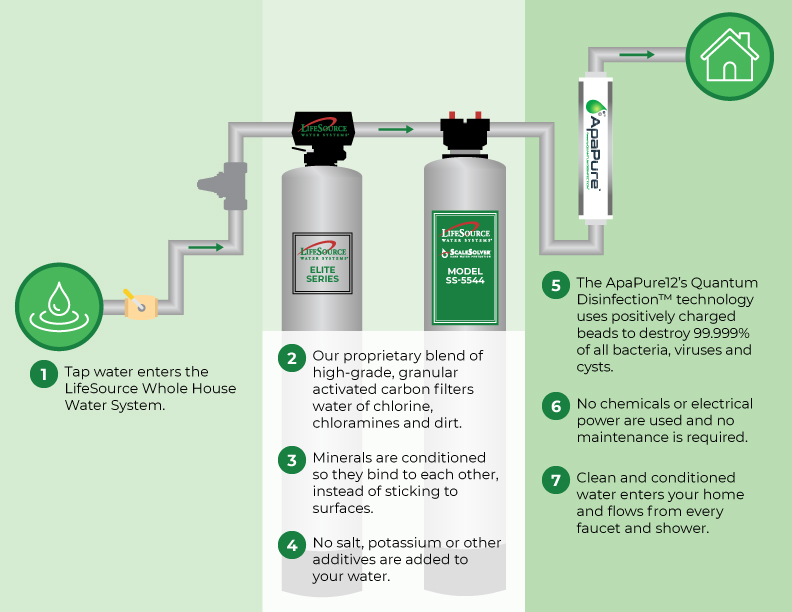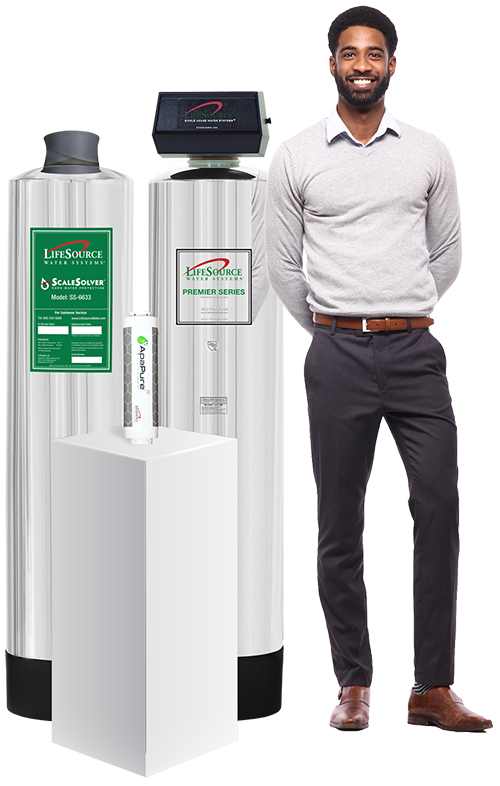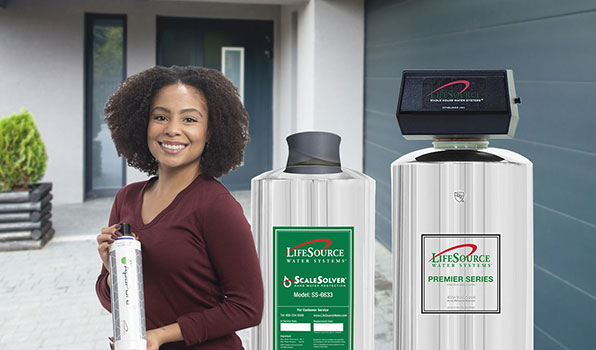 5 Stars from 1557 Reviews
Ultimate Protection Package
Our Ultimate Protection Package combines our Whole House water filter, our Salt Free Water Softener Alternative and an anti-bacterial filter.
Food, coffee, showers and laundry will use filtered water, free of the drying effects of chlorine.
Removes odor, chlorine, chloramines and other common microorganisms.
Our systems retain the healthy minerals found naturally in water.
Neutralizes acidic water.
Safely conditions hard water and reduces scale buildup from your fixtures.
Longest lasting water filter on the market.
Easy installation by factory trained professionals.
The Ultimate Protection for your water.

*Prices vary depending on house size. Call us anytime for a free estimate.
The Elite Series 1620 Filter
Transform your tap water into clean, great tasting water that flows from every faucet in your home. Save money and eliminate the hassle and waste of bottled water. Quality You Can Taste.
Product Specs:
¾", 1", and 1¼" water mains
Compact installation space required: 18" width X 66" height
2.2 million gallons rating
Dimensions: Diameter: 10", Height: 62"
Power Requirement: 1 standard 110v electrical outlet within 5 feet of system or a 24v transformer plugged in a more distant electrical outlet.
Fully Automatic Valve Head
Rinsing: ½" PVC to drain or irrigation, must accommodate 7 g.p.m for a short interval.
LifeSource ScaleSolver
Solve Your Hard Water Problems
The LifeSource NO Salt, Water Softener Alternative replaces water softeners, monthly exchange tanks and reverse osmosis systems. Our ScaleSolver products are proven to reduce hard water scale buildup. Our systems are healthier for you and healthier for the environment.
Features
Extremely efficient - 5 seconds contact time regardless of hardness level.
Conventional Ion Exchange resin requires 90 seconds.
No salt or other chemical required.
No rinse waste. Can be used in areas where water softeners are banned.
Protects the environment and reduces water usage.
Long lasting media that is not consumed by reactions.
No control valve or electricity required.
ScaleSolver tested and certified for NSA/ANSI Standard 61.
LifeSource In-Home Service and Installation
We pride ourselves on our excellent customer service. Unlike dealers, we offer a fully staffed and factory trained service department.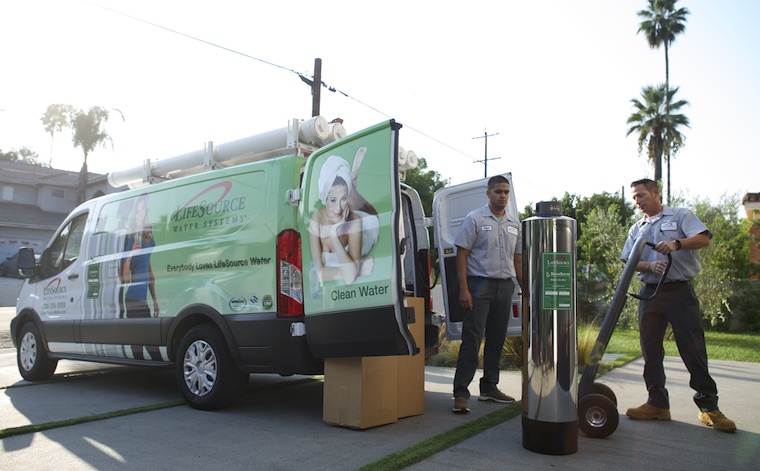 We're here to help with everything from your system installation to all your questions related to your water. LifeSource has factory outlets throughout the U.S. We have factory trained service teams supporting customers directly with in-home service and installation. Please speak with a water specialist at our factory for a water system installation estimate.
Our Technology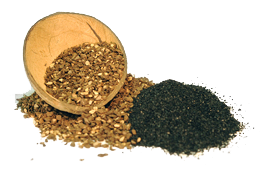 High Grade Granular Activated Carbon
Our systems feature a proprietary blend of coconut shell granular activated carbon. It completely reduces the objectionable taste and odors of chlorine without adding anything to your water.
---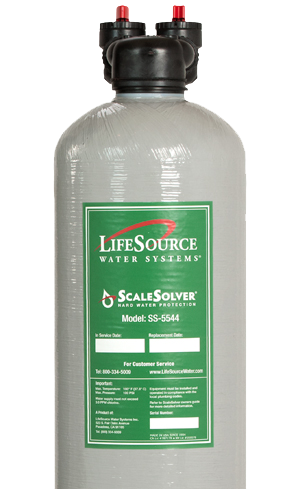 Water Conditioning Unit
The LifeSource ScaleSolver PowerTAC Media utilizes Template Assisted Crystallization (TAC) technology. Atomic level Templates on the surface of small specially treated polymer spheres transform dissolved CaCO3 to a crystalline form. The crystals are relatively insoluble, effectively isolating the CaCO3 from the water chemistry and anything the water contacts.
---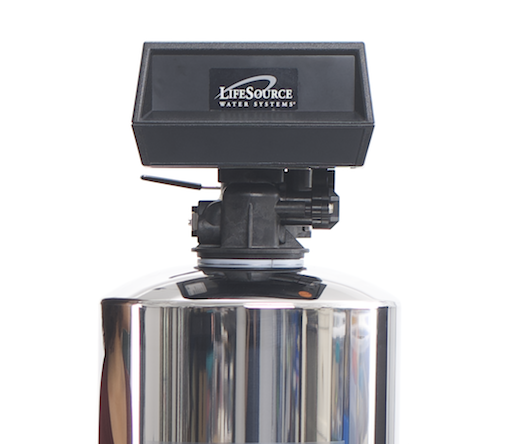 The Most Advanced Valve/Timer
Automatically controls the rinse cycles to clean out sediment in the carbon bed. The rinse water can be used to water a garden or flower bed so no water is wasted. The rinse cycle turbulates the Granular Activated Carbon for longer service life and greater efficiency.
---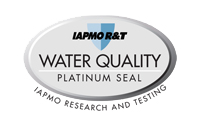 All Our Systems Are Certified
LifeSource Water Systems are NSF/ANSI tested and certified for a filtration capacity of 2.2 million gallons to 5.7 million gallons. The next best system is only certified for 460,000 gallons. Choose a system tested by ANSI accredited laboratories, such as the WQA, UL and NSF.
Customer Reviews
---
---