Better Water for Your Home
Have you ever wanted better water throughout your entire home? Watch our quick video above.
Chlorine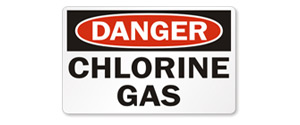 Eliminate the harmful effects of Chlorine from your home
Municipal water agencies in the U.S. are required by law to chlorinate tap water because it helps kill off disease causing microorganisms. Chlorination began in the U.S. in the early 1900's and has helped to prevent many waterborne epidemics. Although this process has benefits for overall public health, there are many negative side-effects from having chlorinated water in your household.
Chlorine in household water has many adverse effects, including a bad taste and odor, dry skin and hair, faded clothes and impaired appliances.
In the Bathroom
Chlorinated water is especially damaging in the shower since chlorine attacks proteins in the hair and skin. This makes hair difficult to color and style. It also dries skin and causes accelerated aging.
Laundry
Like bleach, chlorine makes clothing dull and worn out.
In the Kitchen
From your water, to your food, and to your dishes, chlorine is everywhere. Just as chlorinated water taste, your food will also taste and smell bad.
Household Plants
Plants are a part of nature, but chlorine is not. Keep chlorinated water away from your plants to avoid damage to their cells and to your pets!
Call LifeSource Water Systems to get better tasting water for your home!