Posted: 06/09/11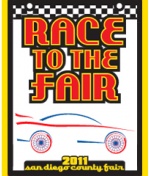 San Diego Fair begins on Friday, June 10
LifeSource at the San Diego County Fair
For the 21st year in a row, LifeSource Water Systems will be exhibiting at the 2011 San Diego County Fair in the O'Brien Building booth # 1213. The SD Fair begins on Friday, June 10 and concludes on Monday, July 4. The San Diego County Fair is the largest annual event in San Diego County and the sixth largest fair in the United States. Last year the Fair attracted 1.3 million visitors.
The Coors Light Rock On Stage also highlights some of the region's best tribute bands. This year's lineup includes tributes to Bad Company, INXS, the Doors, Pat Benatar, Kiss, Jimmy Buffett, the Cars and Johnny Cash.
For more information about the 2011 San Diego Fair, visit www.sdfair.com. Plan your day and make sure to stop by the O'Brien Building – booth 1213 - and enjoy a cool glass of LifeSource Water. All that fun is sure to stir up your thirst!