Posted: 05/04/11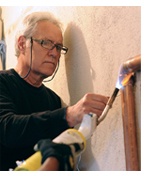 Do-it-Yourselfer, Alex Trebek Helps Install a LifeSource Whole House Water System in his Home.
Pasadena, CA – May 4, 2011 –Alex Trebek arrived at his home after a day of taping his quiz show Jeopardy! He was prepared and ready for the installation of his new LifeSource Whole House Water System. As a true LA Lakers fan, he was also looking forward to watching the Lakers take on the Heat in Miami. The game was about to start.
After seeing long-time friend and neighbor Ed Begley, Jr. talking about the LifeSource System for his home, Trebek's interest was piqued. Alex like Ed did not want a common water softener. So upon visiting the LifeSource booth at a home show in Northern California, he decided to buy a whole house water filter system for his home on the spot.
Alex was prepared to help from the start. He met the LifeSource installation crew with his work clothes on, measuring tape hooked on to his back pocket. "Over the last 20 years, I've supervised or done all the remodeling here at my house", said Alex. In the experience of LifeSource Water Systems, customers generally do not install their own water filter systems, but then again, most customers aren't Alex Trebek.
The king of questions, the 70-year-old quiz show host had questions of his own regarding the LifeSource Water Filtration System. He wanted to know everything about it. How, when, where, why – he even asked to see inside the system, a rare question posed to LifeSource installers. After helping Gabriel, a LifeSource System technician, carry the system to his utility room, Trebek proceeded to jump in and help while one of the other installers stood aside.
After his system was installed Alex was surprised to learn that Jeopardy show announcer Johnny Gilbert and his wife Sharee had their LifeSource System installed in their home in 2000
"Most of our customers just leave when we start working, but Alex was very hands-on. He helped solder every pipe joint. We figure after the second LifeSource system is installed in his Northern California home he should be ready to work for us full-time," joked Gabriel.
The installation moved along quickly. It finished so quickly, Alex was able to get back into his house to enjoy some clean, natural spring-quality water straight from the tap. He was also able to watch the entire second half and see another LifeSource customer, Kobe Bryant score 24 points for the Lakers.
For more information on the LifeSource Whole House Water Filter System, or to view the LifeSource water filter vs. water softener comparison, visit www.LifeSourceWater.com.
About LifeSource Water: LifeSource Water Systems, Inc. has been manufacturing and distributing eco-sensitive, health-conscious, whole house water filter systems for residential and commercial customers since 1984. LifeSource Water Filter Systems are tested and certified to last longer than any other system sold in the U.S
Contact:
Dan Hillard
800-992-3997
[email protected]