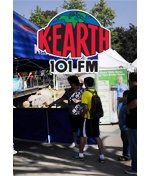 Two Day Event: April 9 & 10, 2011
The Earth Day Expo is a two-day family event at the Los Angeles Zoo in Griffith Park. You'll be able to learn about our planet and those we share it with through educational booths, games, crafts and live entertainment in an earth-friendly environment.
Stop by the LifeSource booth for information on how to help your planet with a whole-house water system. Don't miss the K-Earth tie dye booth, an annual event tradition!