Posted: 12/19/07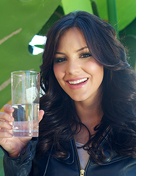 Kat Sings Live on LifeSource Water Systems' Rose Parade Float
PASADENA, Calif., Dec. 19 /PRNewswire/ -- American Idol star Katharine McPhee will perform a single from her debut CD during the 2007 Rose Parade. She will sing live from the LifeSource Water Systems' debut float. This will be the first live (no lip-syncing) vocal performance from an entertainment float in Rose Parade history.
In keeping with the Parade's theme, "Our Good Nature," and with LifeSource's commitment to a healthy planet, the float is titled "Clean Water." In a lush garden setting, McPhee will stand between a giant leaping frog and a working faucet gushing 400 gallons a minute of LifeSource water.
"I'm really honored and very excited about singing in this year's Rose Parade," says American Idol star Katharine McPhee. "I'm a southern California girl so I'm especially happy that LifeSource has offered me this once in a lifetime experience. They've really been great. I'll be singing a song from my new CD so it'll be a big surprise!"
LifeSource Water Systems is the exclusive water system of the Tournament of Roses. The flowers on every float will be kept fresh with LifeSource Water. LifeSource will provide clean, healthy water that will lead to longer-lasting, more vibrant flowers. LifeSource at 2007 Rose Parade.
About LifeSource Water Systems, Inc. A green company before it was cool to be green, LifeSource has provided an eco-sensitive, health-conscious water system for twenty-two years to businesses and consumers nationwide. LifeSource Water Systems provide clean, delicious water from every faucet in the home while retaining the healthy, naturally occurring minerals. LifeSource Water Systems is committed to the protection of our natural resources for a healthy planet and healthy people, and is endorsed by Global Green USA and Children's Health Environmental Coalition (CHEC). LifeSource Water Systems of Pasadena, Calif. has earned the Gold Seal issued by the Water Quality Association.
For more information, visit http://www.lifesourcewater.com/
Contact:
Dan Hillard
800-992-3997
[email protected]