Posted: 12/02/11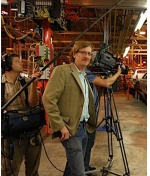 Pasadena, CA – December 2, 2011- LifeSource Water Systems served clean, healthy water to party-goers at the Tesla Motors Showroom in Los Angeles to celebrate the nationwide theatrical release of "Revenge of the Electric Car". Seen hanging with director Chris Paine and Tesla Chairman Elon Musk were LifeSource spokesman Ed Begley Jr., actors Tim Daly and Allison Janney and late night talk show host Jay Leno. When asked by Leno what he was drinking, director Chris Paine replied 'LifeSource Water, it's the best!'
The critically acclaimed documentary sequel opened in theaters in Los Angeles and New York on Oct. 21, and more cities across the country in the coming weeks. Filmmaker and electric-car advocate Paine directed both documentaries, which follow auto-industry executives in their pursuit of zero-emission leadership. On November 9th, Roger Ebert posted his review of the film. "So did electric cars get their revenge? Yes and no." "His film is just as polished and good-looking as his first one, gives us a good look at automakers we like, and is entertaining."
On display at the party were the sexy Tesla Roadster and the elegant Tesla Model S, the Chevy Volt, the Nissan Leaf and a few electric motorcycles that glided in like silent Ninjas. LifeSource Water Systems and electric cars have a lot in common; sustainable machines whose owners get to enjoy the benefits of quality manufacturing, reliable service and huge long-term cost savings. These are futuristic technologies that will reduce America's dependence on foreign oil. 8.3 billion gallons of bottled water are consumed in this country every year, and each one of them needs gas for manufacturing, distribution and disposal. Every year, the production of plastic water bottles in this country consumes more than 1.5 million barrels of oil, that's enough to fuel 100,000 cars!
Eco-friendly and low-maintenance, aLifeSource Whole House Water System eliminates the need for any point-of-use filters and has proven to be the longest lasting water treatment system in the industry. According to NaturalNews.com, 'LifeSource addresses the problems of tap water with an effective, efficient and inexpensive technology that is unmatched in its class.' With LifeSource, your family will stop drinking from plastic water bottles once and for all. Good for the planet, even better for your health! For more information on the LifeSource Whole House Water Filter System, or to view the LifeSource water filter vs. water softener comparison, visit www.LifeSourceWater.com.
About LifeSource Water:
LifeSource Water Systems, Inc. manufacturers the highest rated water softener alternative in North America. Our eco-sensitive, health-conscious, whole house water filter systems have been used for residential and commercial applications since 1984.
Contact:
Dan Hillard
800-992-3997
Dan@LifeSourceWater.com