Posted: 07/29/11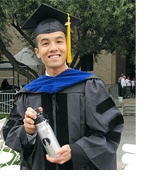 LifeSource Water Systems Provides Filtered Tap Water for Caltech Commencement.
Pasadena, CA July 29, 2011 - Many colleges and Universities have joined in the movement to ban bottled water from their dining halls and campuses. California Institute of Technology (Caltech) had to consider recent research that estimates only 17 percent of plastic water bottles get recycled and that more than 50 million end up in landfills each year. The research led Caltech to decide on a better solution for the 2011 Commencement ceremony. CalTech partnered with local water filter manufacturer LifeSource Water Systems to provide clean, healthy filtered tap water on the day of the big event.
Each graduating student was given a reusable stainless steel water bottle with the Caltech logo along with their diploma. "The best way to change habits is to start with a better alternative...a stainless bottle is a great way to carry water with you at all times," said John Onderdonk, Caltech Manager of Sustainability Programs. "Fill that bottle with filtered water and you've got a convenient solution that's good for your health and the environment."
Other attendees of the ceremony were served water in compostable cups and encouraged to refill them as often as they liked. "At the end of last year's ceremony, our groundskeepers found hundreds of bottles still nearly full and many more empty water bottles littering the lawn," said Delmy Emerson, Caltech Director of Building and Grounds. "This year, less than a handful of empties brought in by guests were left behind for disposal."
LifeSource Water, the leading eco-friendly water softener alternative, has saved companies extensive bottled water cost and waste. A LifeSource whole-house filter provides for great tasting clean filtered water flowing through every tap in a home or business.
"A gallon of bottled water can cost anywhere from $.79 to $15. Tap water from your local water agency sold by the hundred cubic feet, (HCF), costs roughly $2.50 for 748 gallons of water," said Pam Batra, LifeSource Factory Representative. "Saving money and saving the planet can go hand in hand!"
LifeSource Water Systems, Inc. has been manufacturing eco-sensitive, health-conscious, whole house water filter systems for residential and commercial customers since 1984. LifeSource Systems are tested and certified to last longer than any other system sold in the U.S.
Additional information; www.LifeSourceWater.com
Contact:
Contact:
Dan Hillard
800-992-3997
[email protected]